2010
11.13
My short trip to Kenya got off to an inauspicious start when my brand new Canon 1D MK 1V camera packed it in after just 40 minutes of shooting. "Error 20" was the flashing message – this is a problem related to the mirror/shutter mechanism that no amount of battery removal would solve.
Fortunately I had a number of other camera bodies with me and of these I settled on two, always reliable, albeit slow (in terms of frame rate) 5D MK 2 bodies. It's always convenient to blame one's equipment for poor images but I like to remind myself of what Mitsuaki Iwago was able to achieve in 1982/84 in his seminal publication "Serengeti" which even today, still looks fantastic –and  these were the days before even auto-focus was around, let alone digital technology.
Arriving in the Mara, I headed straight for the Cheetah mother and her six cubs which I had first seen back in early August. Amazingly and against all the odds, this remarkable mother has managed to ensure that all six cubs are still in rude health.
Imagine living in an environment where 1) you are a single, homeless parent with six young children to raise; 2) every minute of the day and night there are a variety of predators, always in close proximity, that are trying to kill you and your children; 3) you are required to catch and kill all your food unaided by any tools; 4) coalitions of males of your own species are intent on kidnapping and possibly raping you. This is the plight of a female Cheetah with cubs in the wild.
Mortality rates among Cheetah cubs are exceptionally high due mainly to predation from Hyenas, Lions and Leopards so to have raised not just one, but six cubs to just over four months is an incredible feat. As each day passes, the odds of their survival and attainment of adulthood, improve. Indeed even now they can outpace other predators as long as they have some warning and are not ambushed. Unlike other Cheetah mothers that I have observed with young cubs and which have stood toe to toe with predators, this one sensibly flees with her cubs at the first hint of any danger. What is extremely exciting is that four of the cubs are males. Should they survive, they will likely form a coalition with potentially awesome predatory capabilities.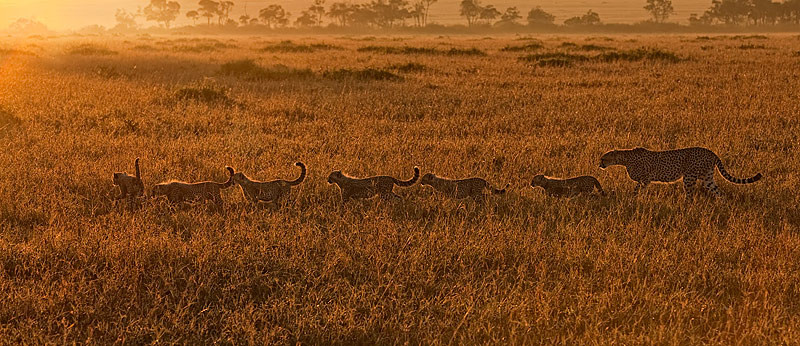 Right now the cubs spend much of the day play fighting with each other. In reality this play fighting involves stalking, running, jumping and throat biting, all essential skills which will need to be honed to ensure a successful transition to adulthood and independence from their mother.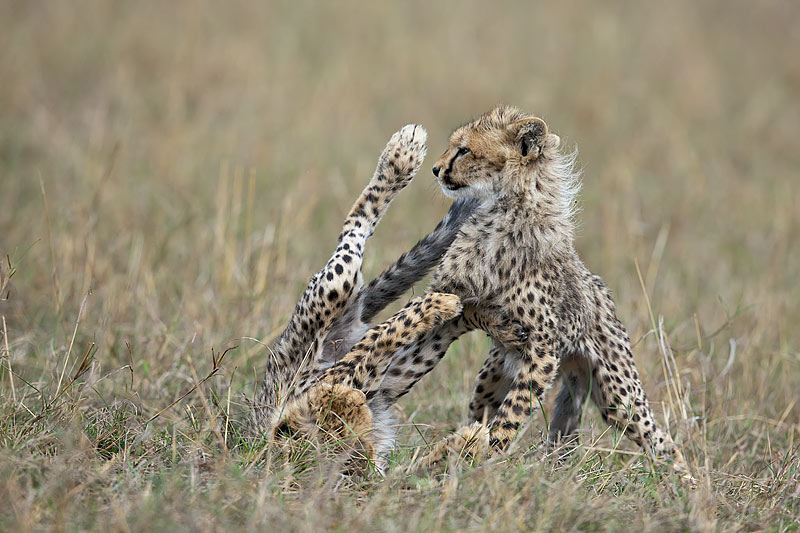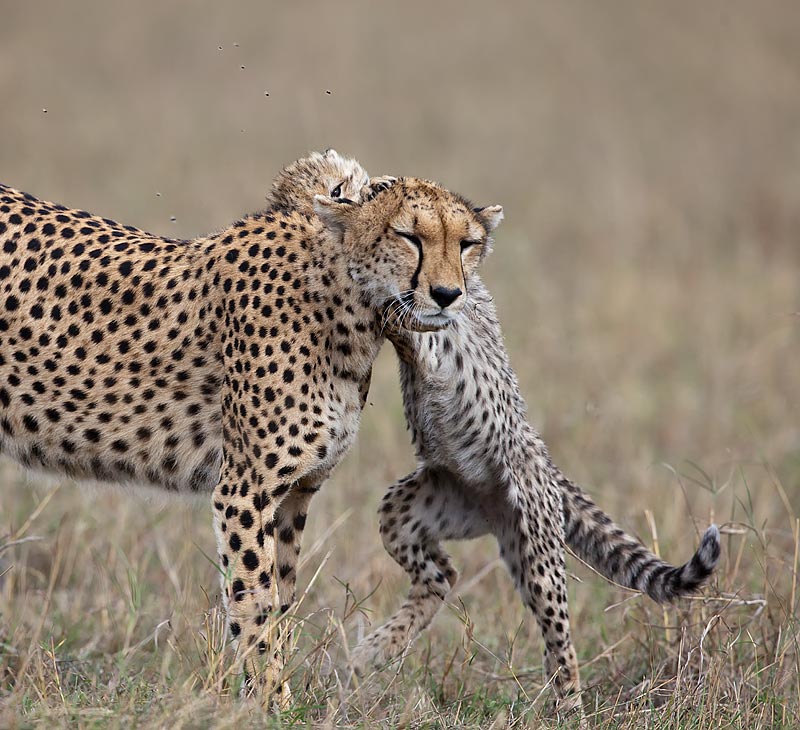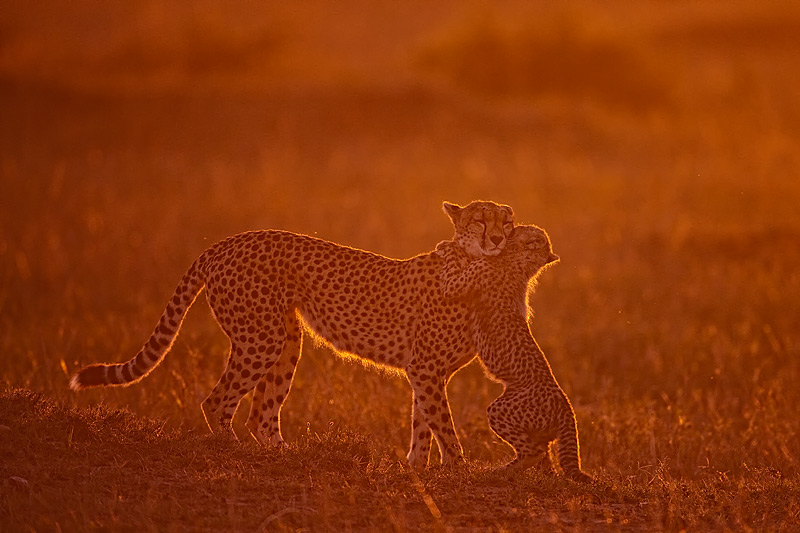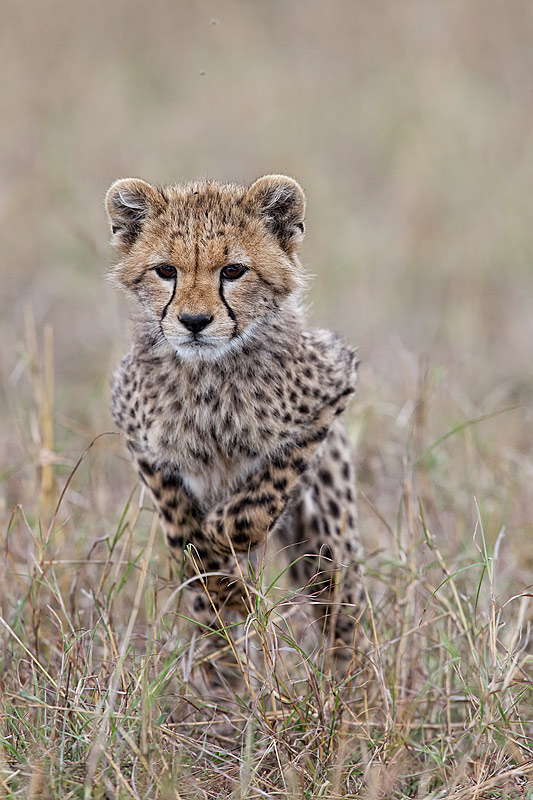 The cubs are already going after smaller prey. This cub actually managed to catch this juvenile Banded Mongoose but has still not developed the necessary throat choking skills to dispatch it, affording the fortunate, smaller, youngster a lucky let-off.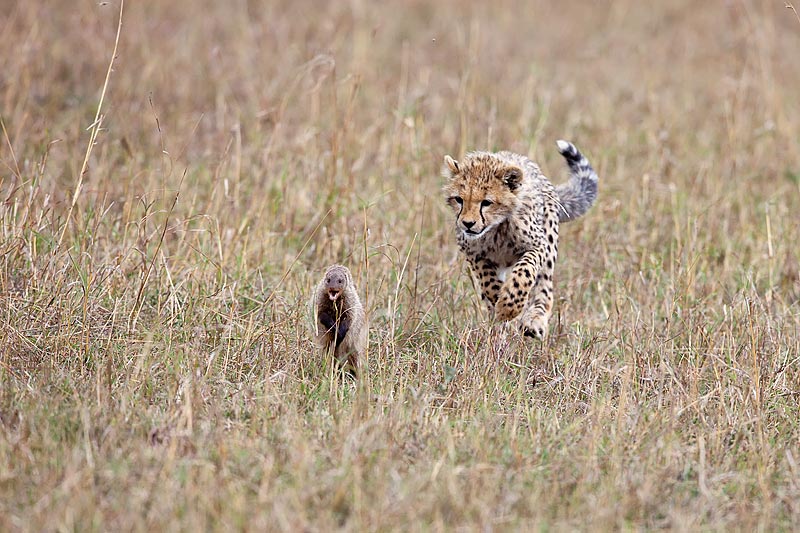 At this age, the cubs are also busy exploring their environment and unlike Cheetah adults who only occasionally venture into trees, the cubs cannot resist anything wooden and vertical.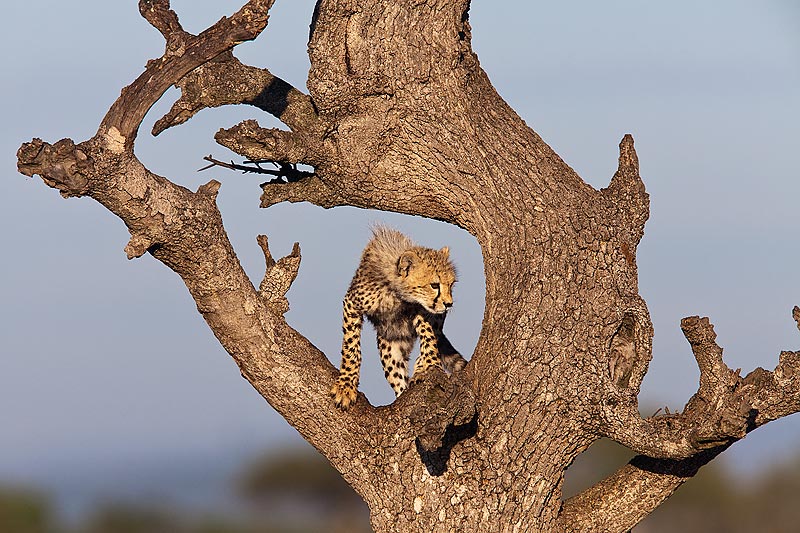 Being homeless means having to endure the elements and at this time of the year, the Mara is often subject to torrential downpours of rain. Whenever it rains, the temperature drops several degrees and sitting in the comfort of our vehicle, it is hard not to feel sympathy for all the creatures of the Mara, large and small, who are forced to tough out the elements.
But rain always makes for interesting photographic opportunities and late on my second day as dusk was rapidly descending, necessitating an ISO of 2,500, I took what has become one of my favourite images. In a perfect world, all six of the cubs would be looking at the camera but the image is still a strong one, made by the water droplets shearing off the mother and the priceless expression on the cub's face to the immediate right. It's one of those images that begs for a caption…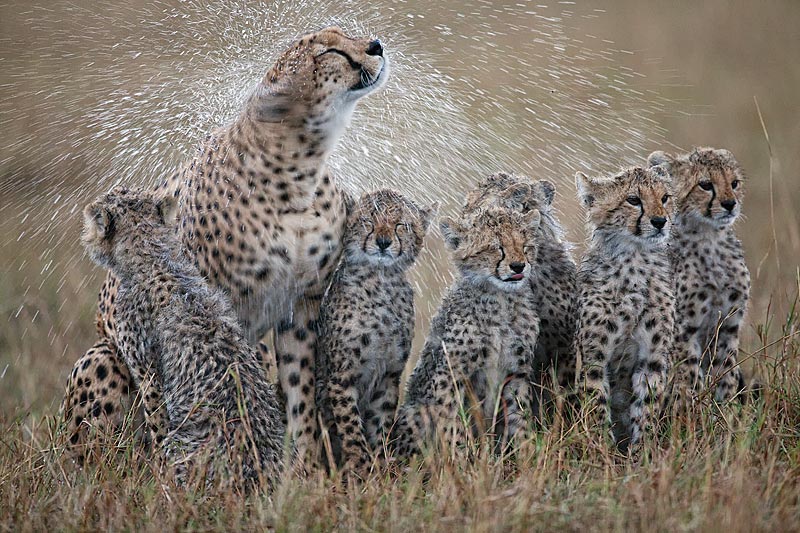 I saw no Leopards on this trip (partly because I did not look for them) and spent only very limited time with Lions but I did have some good photographic opportunities with:
1)      An adult Bateleur Eagle on an attractive perch with lots of positive exposure compensation to ensure detail in the bird.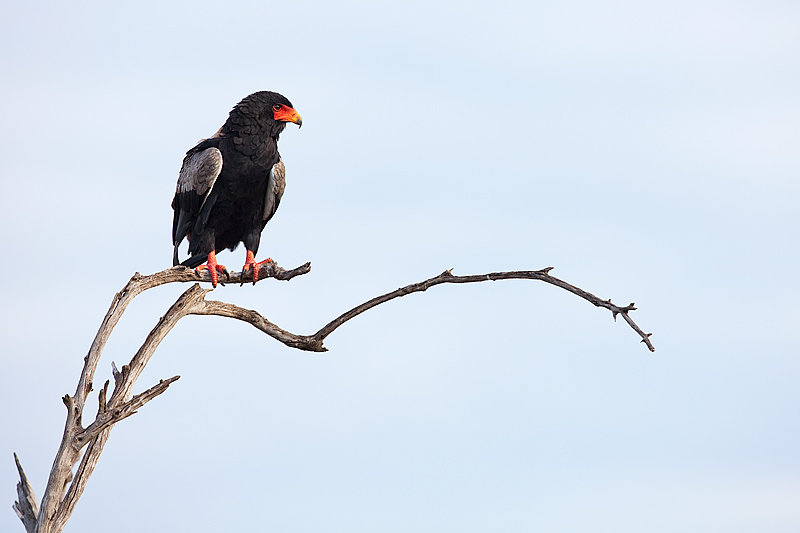 2)      A Hippo in the rapids of a very high Mara River shot at 0.4 of a second to blur the flowing water but still fast enough to ensure a sharp image of the Hippo.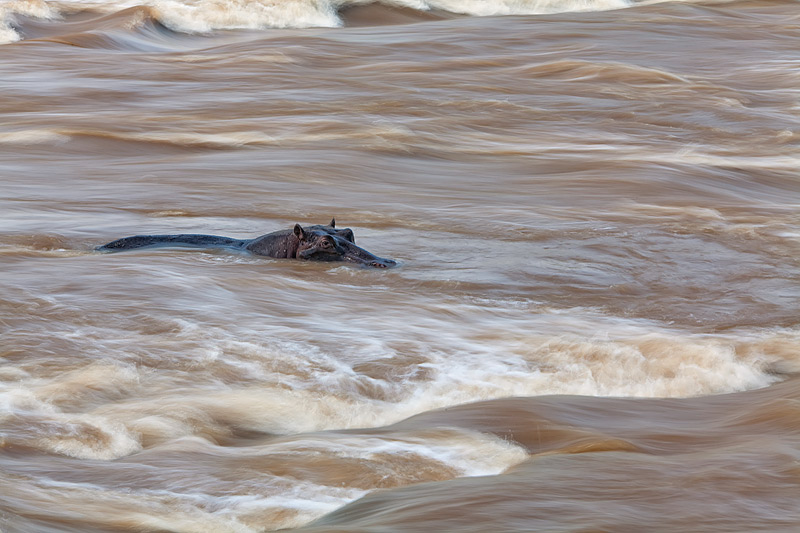 3)      This juvenile Black-Backed Jackal shot backlit at sunset outside its den. The trick with backlit shots at sunrise and sunset – and at the equator, the window of opportunity is less than ten minutes – is to 1) underexpose (anywhere from -1/3rd to as much as minus 3 stops if you just want a silhouette with rim lighting (you'll need a dark background to make this work) and 2) to switch your white balance to shade or a similar manual Kelvin setting. This will enhance the reds and yellows and produce a "Velvia effect". Of course you can do this on the computer as well but it is always more rewarding to get it right in-camera.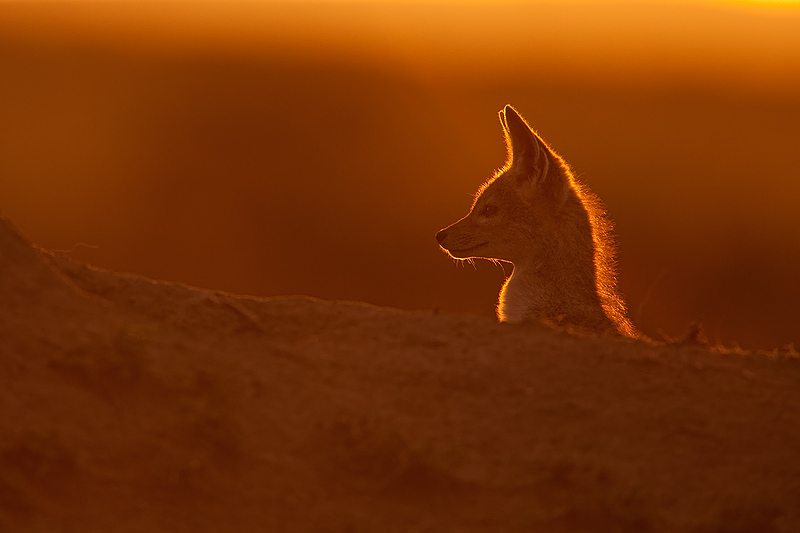 4)      These two Masai Giraffes walking on the horizon. This is an example of being able to recognize the potential of digital photography. The sky was overcast – almost white – and the Giraffes would have needed plenty of overexposure to reveal their details. Instead I deliberately underexposed with the intention of rendering them as silhouettes for conversion to a high key monochrome image. The sky was a dull, off-white which has been given some added plus exposure during post processing, to turn it white. Bingo – a pleasing image out of nothing.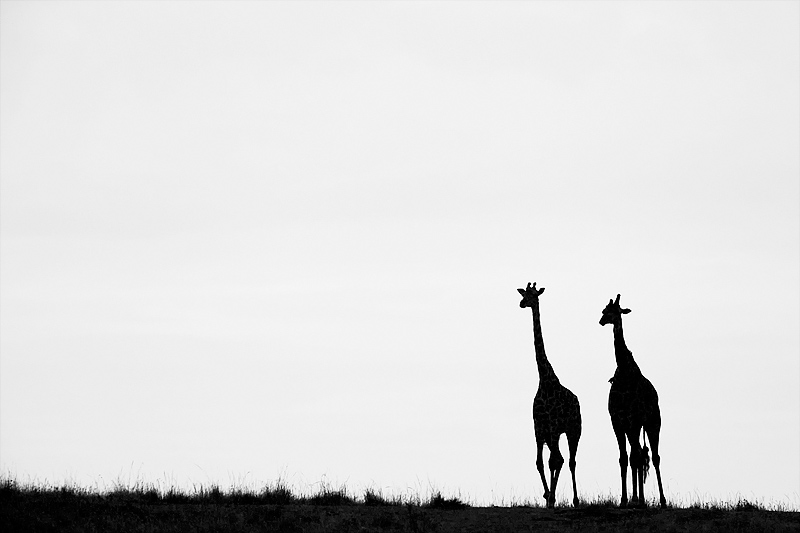 Meanwhile the migration was in its final throes with river crossing still occurring on a daily basis.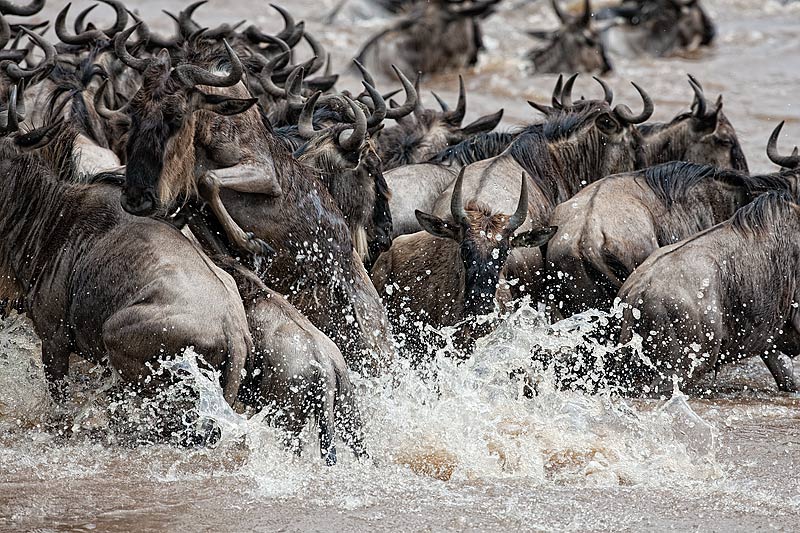 However, I was much less interested in the river crossings than the approach to the river by the Wildebeest and Zebras. Unlike in August, I had bought my rock cams and while the casings still need some modifications, my new wireless triggers worked much better than the previous ones that I used in the Serengeti in May. The result was increasingly improved images. As I have noted before, this is a very hit or miss (heavily weighted to the latter) activity, requiring large amounts of patience – will the animals pass by/over the rock casings which have been laid down well in advance of the anticipated direction of the animals? And while it is exhilarating when they do so, part of you also has your heart in your mouth as one misdirected hoof from an adult Zebra has the potential to destroy the casings and/or severely damage your camera and lens. Indeed during one stampede of several hundred animals, both casings were sent sprawling with the cameras unceremoniously ejected. Fortunately no damage was done.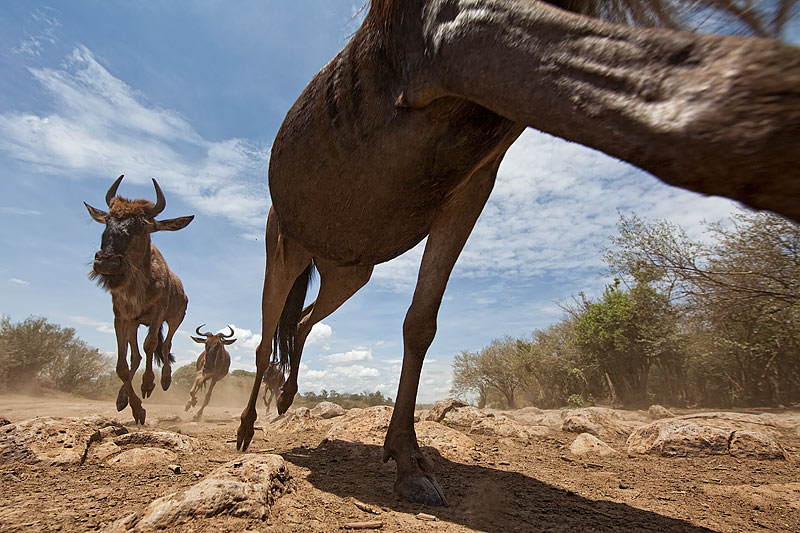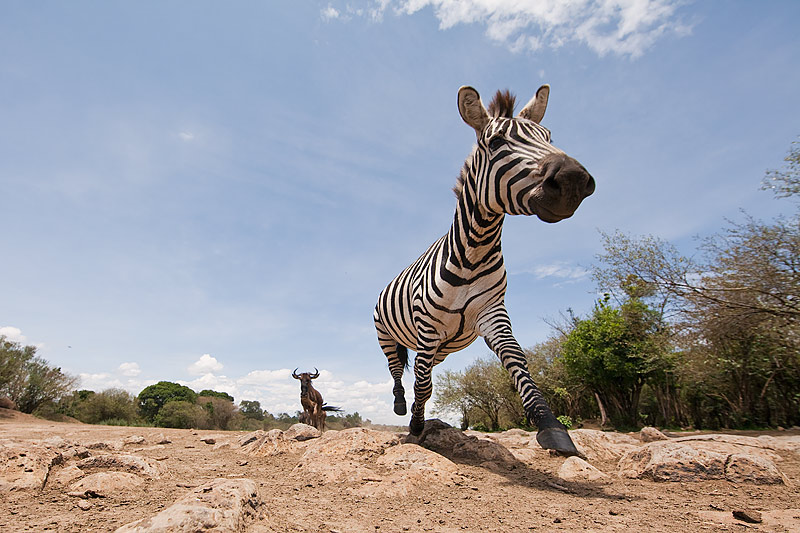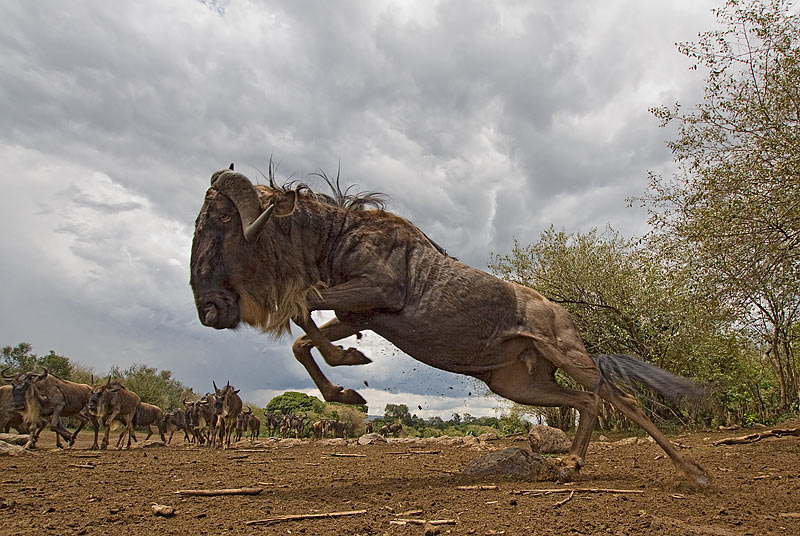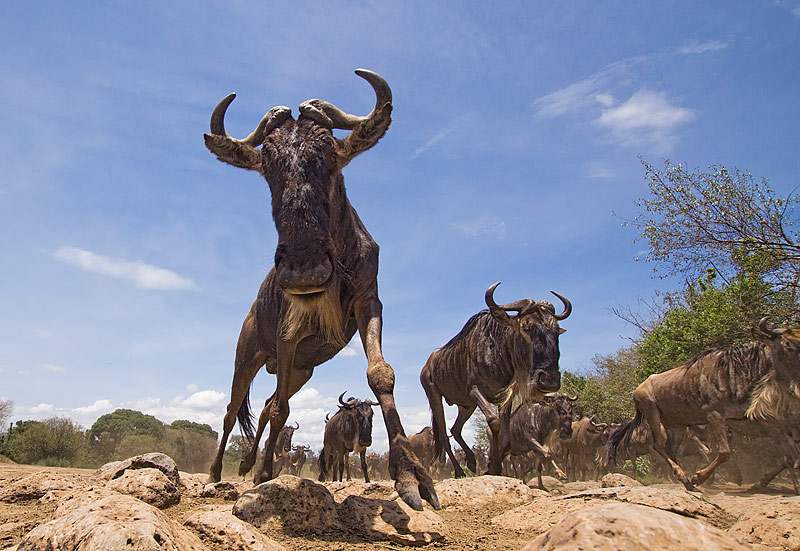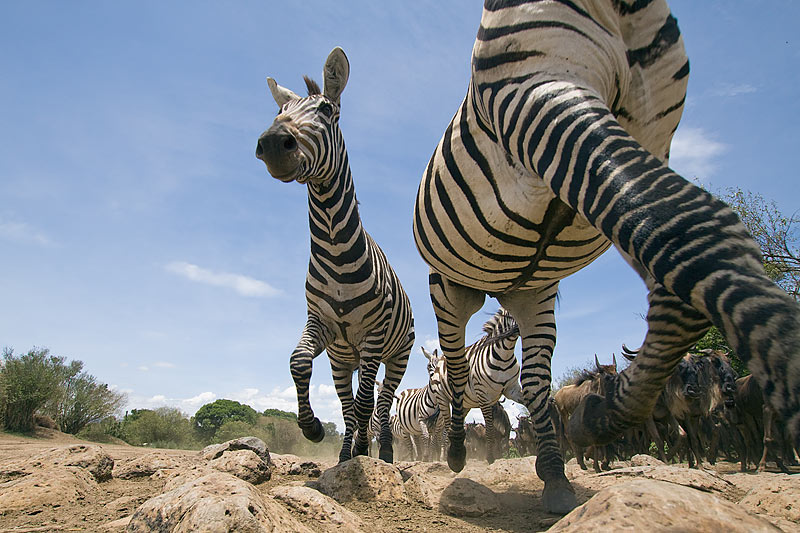 And this one, that was almost a winner (need to set the manual focusing distance a little closer next time!)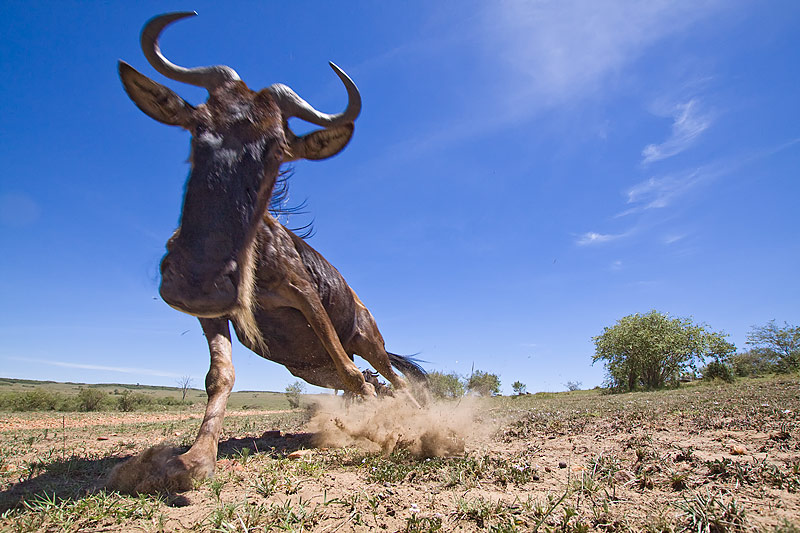 I tried using the rock cams in a few other situations. While driving away from the river one day, I noticed a Crowned Plover precariously sitting on three eggs right next to the dirt track down which numerous vehicles were travelling to and from the river. We withdrew about 20 meters, pulled over to the side of the road and observed the brid for 20 minutes. Every time a vehicle would go by (neither the driver or the passengers in any of the vehicles noticed her), she would raise her wings. This gave me an idea, so approaching slowly, I placed the rock cam about a foot and half from her. She made no attempt to rise and leave the eggs when I did this. We then retreated and as the next few vehicles passed, I would press the wireless trigger. As she already had enough aggrevation with the speeding vehicles, I did not want to stress her any more and so removed the rock cam after a few minutes. It won't win any awards with the feet and wings cut-off while the mid-day lighting is horrible, but it is still an interesting picture of a bird that ordinarily would never allow itself to be photographed with a wide-angled lens.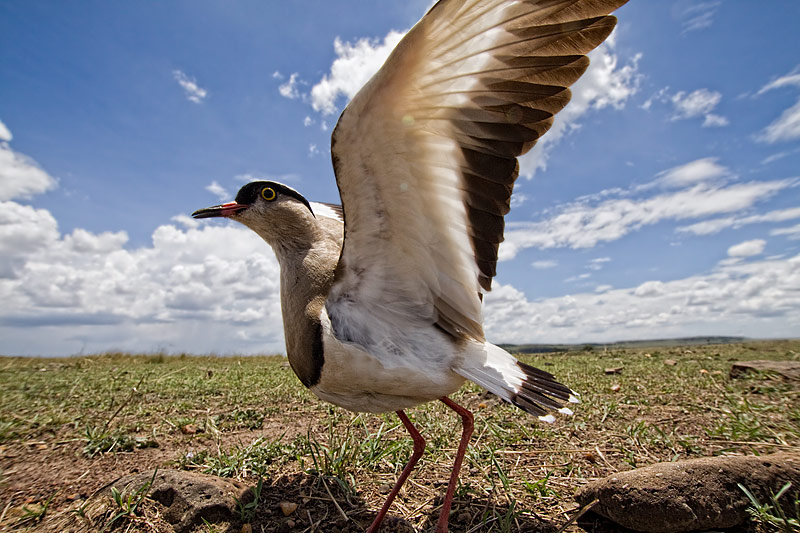 On my last morning we came upon a male Lion feeding on a Wildebeest carcass. I was able to place the rock cam 10m away without the Lion noticing. Too far away to photograph on the kill, the hope was that he would walk in the direction of the camera after finishing his meal. Unfortunately he did the complete opposite, dragging the carcass further away before eventually sauntering off away from the camera. However, by now a posse of vultures and Marabou Storks had gathered a short distance away, ready to move in and clean up as soon as the Lion left. This they duely did, with this Marabou pausing briefly to check out the strange rock like object on the ground.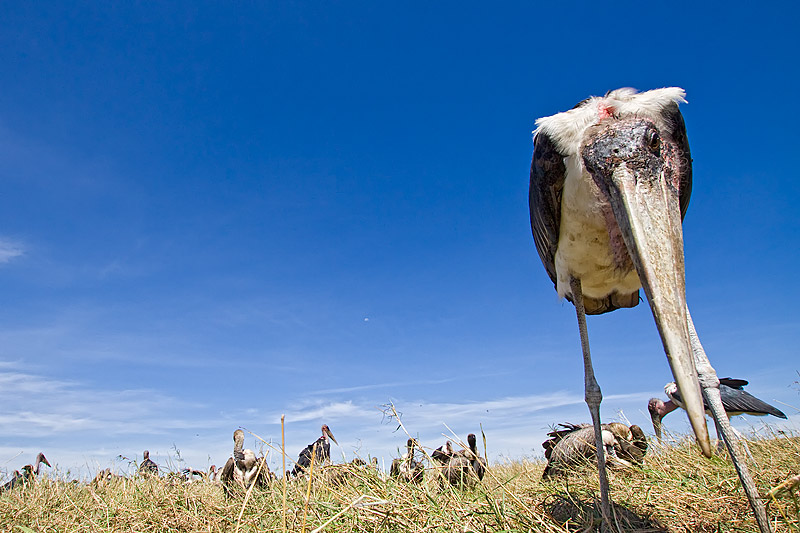 As the carrion descended on the carcass, the Lion, in a fit of annoyance, made a half-hearted charge in their direction. This was enough to send the scavangers (and flies!) skywards, fortunately in the direction of the camera.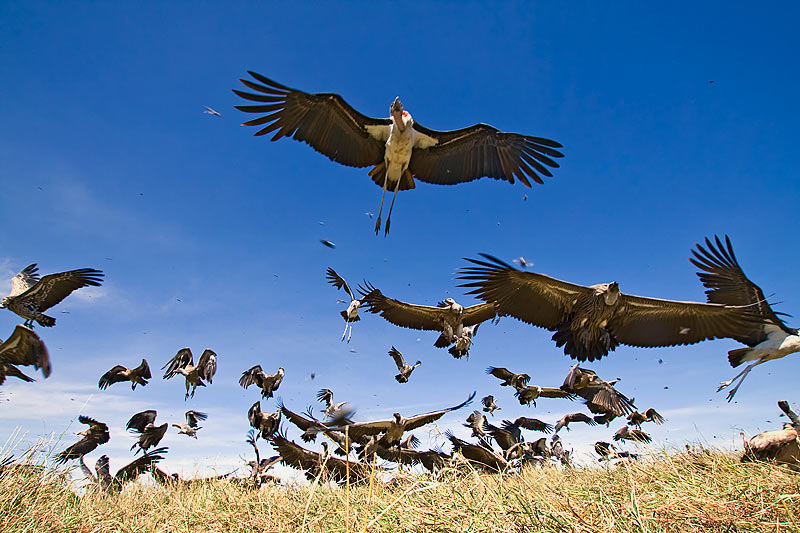 After a week in the Mara, I headed back to Nairobi where I took a private charter up to Lake Turkana. Joining me were Ken and Michelle Dyball (www.pulseafricansafaris.com), two talented wildlife photographers from Australia who I had invited along. They spend several months each year self-driving in Namibia and the Mara and have had some amazing experiences. Ken's beautiful and rare picture of a Caracal in a tree received a highly commended award in the Black & White section of this year's BBC Wildlife Photographer of the Year.
As our plane was late taking off, we had no real time for any aerial photography on the way up apart from a very brief minute or two when we were able to open the door on one side of the plane just as the sun was setting behind the hills ringing Lake Logipi.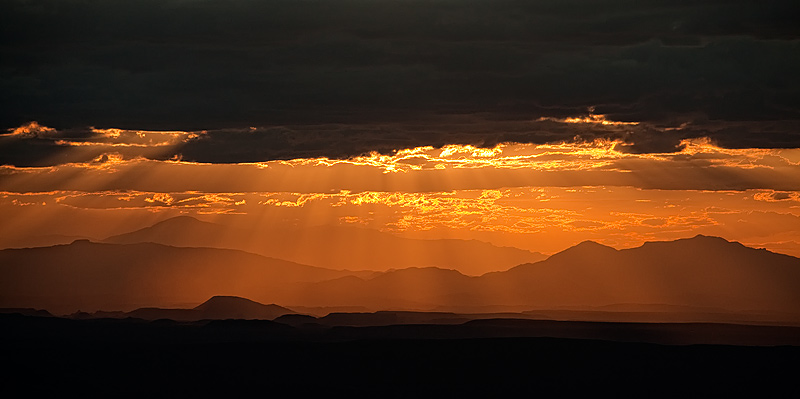 After a night in Loiyangalani on the South East shore of Lake Turkana, we were in the air early the next morning, heading across the Lake and up its western shore before landing at a dusty airstrip outside the small town of Kalokol. From there we made our way to the shore of Ferguson's Gulf where after inevitable delays we boarded a small motor boat to make the 45 minute trip to the volcanic shores of Central Island. I had been asked by a UK based film company to make a recce of the island to determine whether there was any interesting wildlife behavior to be filmed. Without giving too much away, the answer is largely no, although there is one potential item of interest. More on this possibly over the next few months.
After a quick lunch back at Loiyangalani, we headed for Lake Logipi. I have seen this seasonal lake in many guises – from almost completely dry last year to near full two years ago. With the abundant rains this year in April and May, the lake currently has plenty of water – although it never reaches a depth of more than a foot or two.
Arriving towards late afternoon, we were greeted with the wondrous sight of thousands of Lesser Flamingos thronging the shallow waters. It is hard to put into words just how incredibly beautiful this lake is when conditions are right. The combination of the Flamingos, the perfect cloud reflections on the mirror surface and the algae infused colours of the lake bed, visible underneath the surface, make for a stunning spectacle that really does take one's breath away. Depending on the orientation of our plane to the water's surface and the sun, the lake bed is a constantly changing kaleidoscope of colours which also produces optical illusions of apparent hill like features beneath the surface even though the lake bed is completely flat.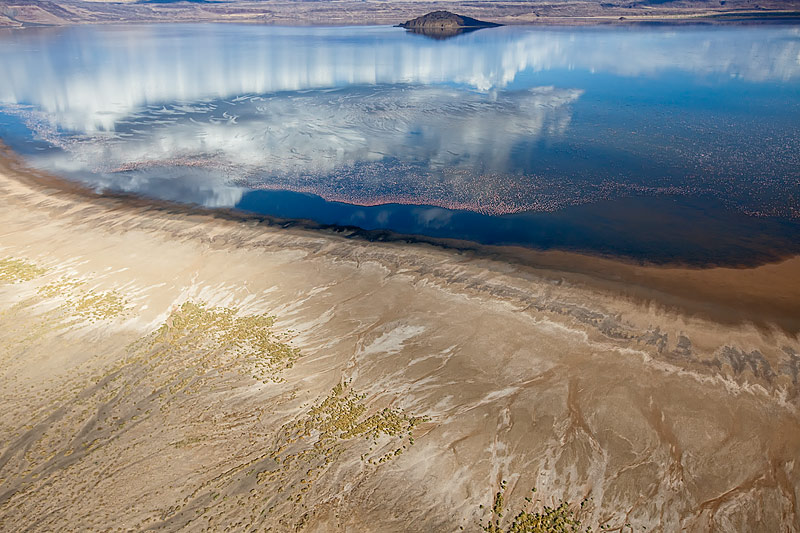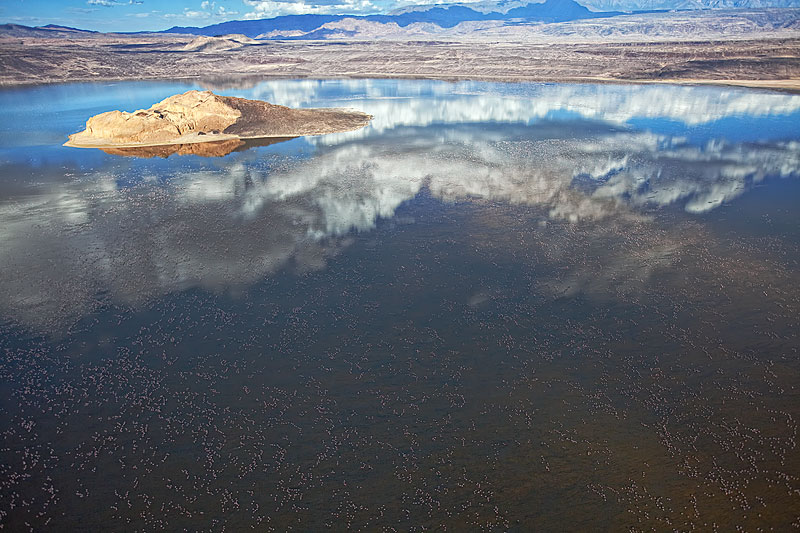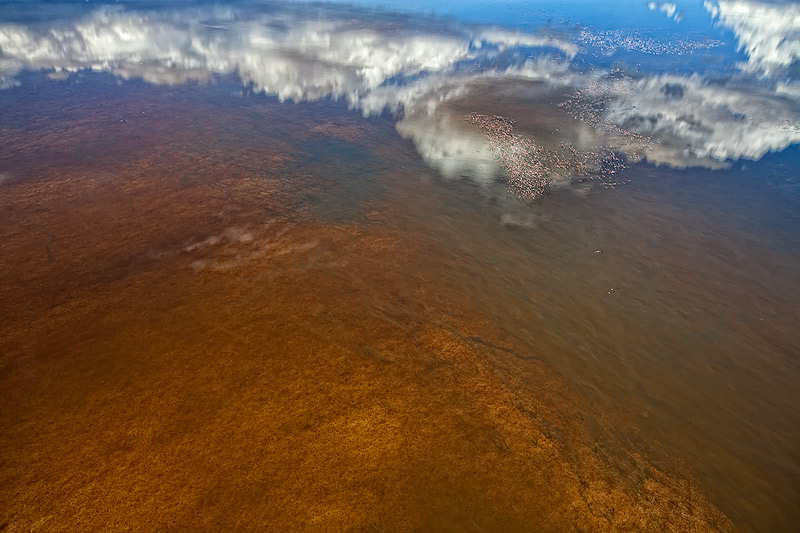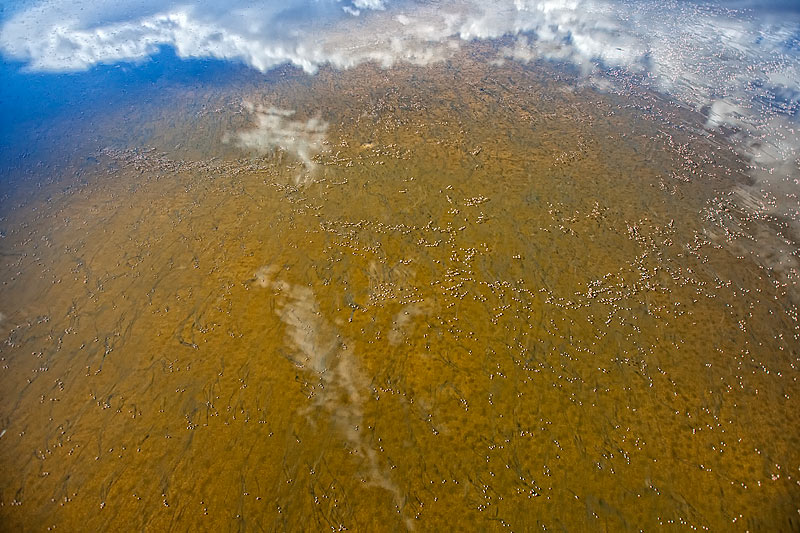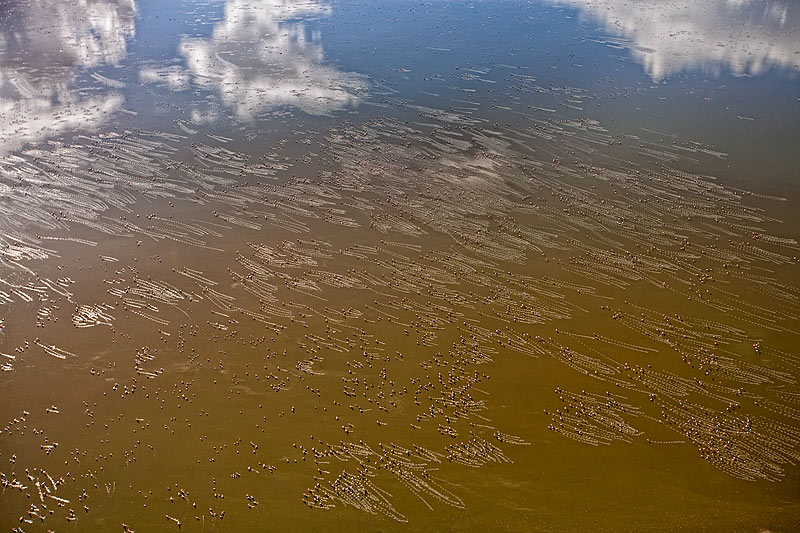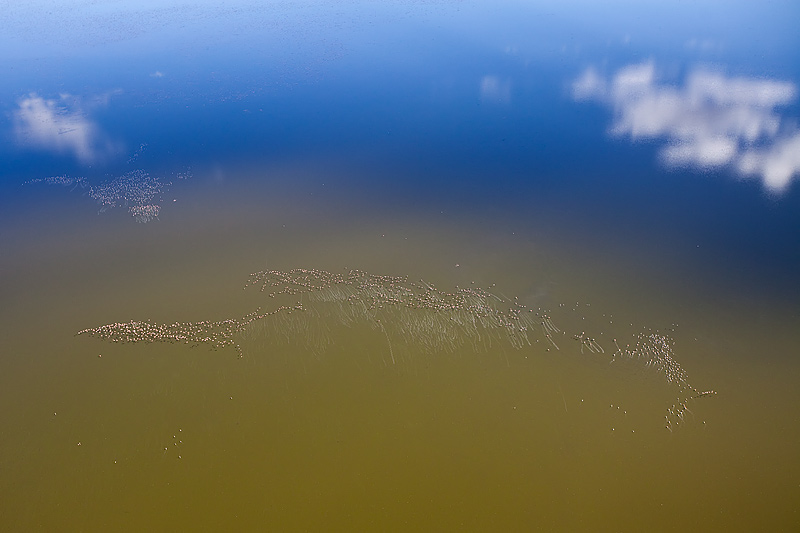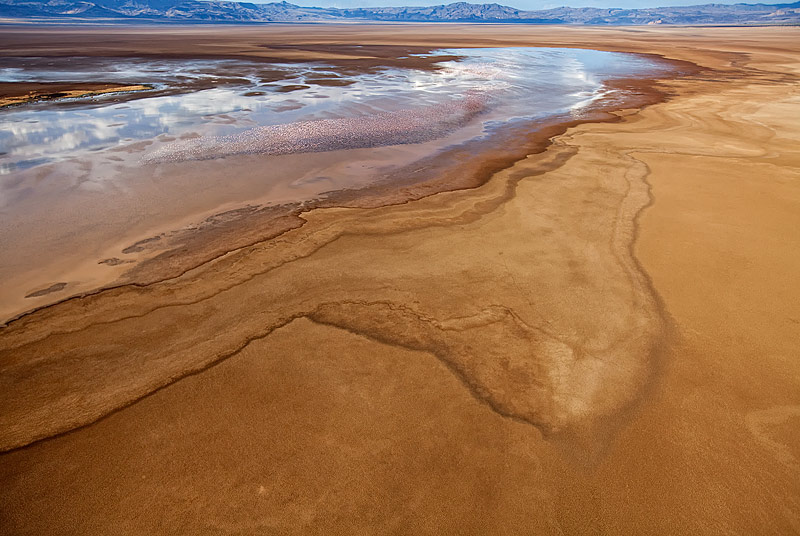 After Logipi, we headed down the equally spectacular Seguta Valley with its initial flat, wide, alluvial pan, interspersed with numerous seasonal rivers and streams giving way to a drier environment dotted with ancient volcanic features.