For most of my life I have had a deep aversion to cold climates. This probably has a lot to do with my years spent in a largely unheated boarding school in the Dublin (Ireland) mountains. Memories of drinking water freezing overnight by my bedside in the concrete dormitory that I suffered in with twenty others (windows were required to be left open by a sadistic house master irrespective of outside climatic conditions); and afternoons spent on frozen rugby pitches with fingers and toes numb from the cold, are still fresh in the mind. This was also a driving force in my decision to exit Ireland ASAP post-university graduation to a destination with more agreeable temperatures. Ireland's 20% unemployment rate at the time (things seem to be going full circle there) was a much lesser consideration.
In turn, the gravitation towards warm weather destinations has been a noticeable feature of my photographic life. It has only been in the last two years that I have ventured to cold weather areas. And I have to write that these have turned out to be some of my most memorable and rewarding trips. My Antarctica trip late last year stands out, but snowy Hokkaido in Northern Japan, which I visited in mid-February, now looks set to becoming a regular return spot.
The fact is that as long as one is dressed appropriately -crucially for photographers this means having an ample supply of hand warmers (which work best when placed in retractable mittens) -then photographing wildlife and landscapes against a backdrop of snow and ice presents endless opportunities for aesthetically pleasing images.
Hokkaido's big winter wildlife attraction is its collection of majestic avian species. Prominent amongst these are the Japanese Red Crowned Crane, the White Tailed Eagle, the Whooper Swan and the Steller's Sea Eagle. With time a constraining factor, I had to limit myself to the first three. The Steller's Sea Eagle, with its stronghold on the Shiritoko peninsular of NE Hokkaido will have to wait until next year.
Arriving at the airport in Sapporo on the western side of Hokkaido with a plane full of ski-destined Hong Kong expats, I was greeted, horror of horrors, by the longest passport control lines that I have ever faced, at any airport, anywhere in the world. Not just that, but the temperature control had seemingly been switched to 30 degrees centigrade, which would have been fine were it not for the fleeces and down jackets worn by all arrivals. So it is official. Japan actually has an inefficient piece of infrastructure (although this will probably be rectified when a new terminal opens this month). 90 minutes later, T-shirt clad and drenched in perspiration, I emerged to the adjoining rail station to find I had missed my train to the port city of Kashiro in SE Hokkaido. This meant a three hour wait for the next train, which in turn would mean that I would miss my connection to the lake side village of Kawayu Onsen.
After a four hour cross-island rail journey through snow covered forests and hills barely visible in the inky darkness, I arrived in Kashiro at 11pm to a temperature of -20c. I quickly located one of Japan's ubiquitous but comfortable motels just a minute's walk from the station.
Six hours later I was back at the station to catch my 90 minute train to Kawayu Onsen. As dawn broke, the region's abundant wildlife made itself visible with Sika deer especially prominent along the edges of the rail track. Also known as Spotted Deer or Japanese Deer, they were once common throughout Asia and the Russian Far East but their range has today been heavily reduced and fragmented in all areas except Japan, where the species remain common. This has been due to conservation efforts and the extinction of wolves, its main predator. The population has expanded so much in Japan that it is now considered a threat to both forests and farmland to the extent that hunting is encouraged in certain areas of Japan.
After a quick transfer to my hotel in Kawayu Onsen, I hopped into a taxi with nearby Lake Kussharo-ko my destination. At 80 sq kms, this is Japan's largest Crater Lake. Each year hundreds of Whooper Swans winter in Eastern Hokkaido, principally on Lake Kussharo-ko, after migrating from Siberia and Northern Mongolia. Although much of the lake is frozen in winter, it is fed by onsen water, creating warm temperatures and several natural rotemburo (outdoor onsens) around its edge.
In the following image, the steam from the hot water meeting the cold air can be seen in the foreground with the frozen lake and snow covered hills in the background.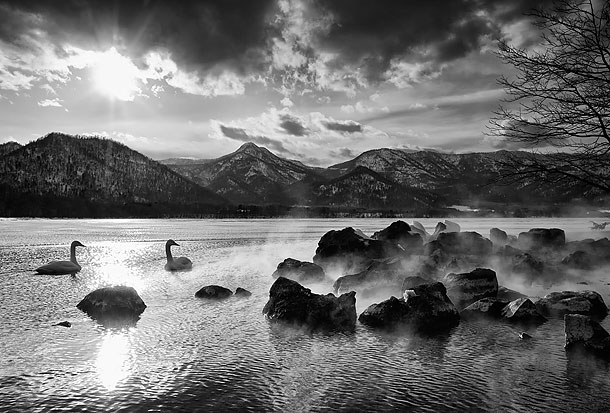 During the night, the swans leave the lake and return early morning which provides ample photo opportunities for flying bird shots. While I took plenty of these, my rule of thumb is that when the surrounding landscape is attractive – and in Hokkaido it is often stunningly beautiful – then I prefer to go wider and place the subject in the context of its environment.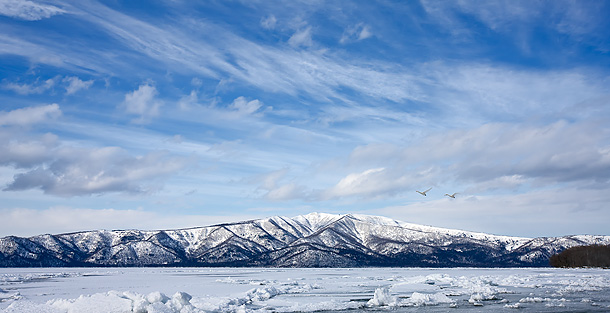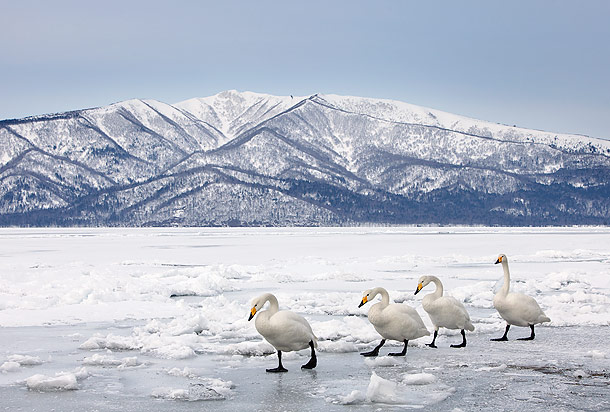 That said, it's important to shoot a variety of images. This next shot was taken with a 600mm lens with a 25mm extension tube attached to permit close focusing. I was sitting down next to the swan with the lens resting on my knees. I love these kinds of images where the subject completely fills the frame, where there is one main point of focus and where the viewer has to pause for a moment to be sure of what they are looking at.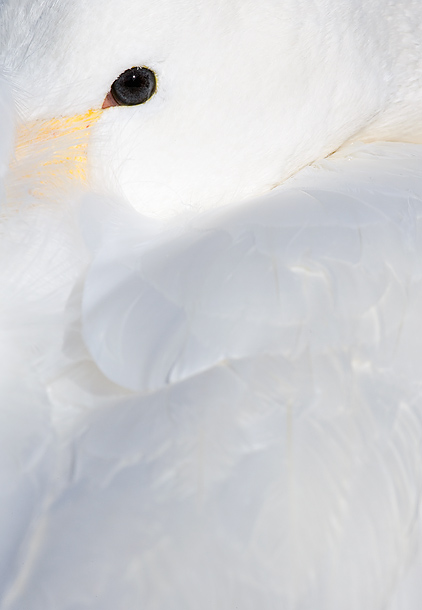 The swans, which are the Eurasian equivalent of the North American Trumpeter Swan, pair for life. In the early morning they tend to be highly gregarious, displaying and calling loudly with their distinctive trumpeting sounds.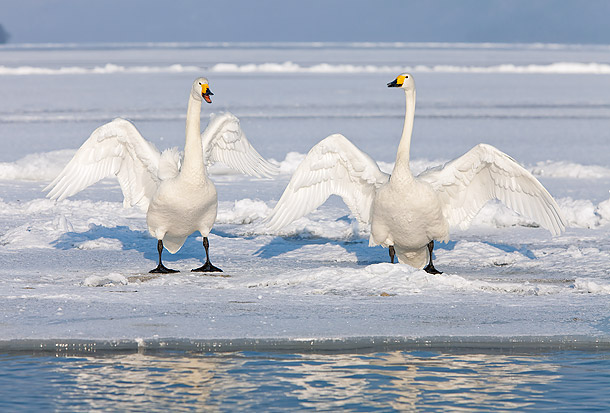 Nearly all the visitors and photographers congregate at a point on the eastern shore of the lake where the swans are fed grain in winter by local staff and where tourists can buy parcels of bread to feed the swans. While I took some nice images here, I have an abhorrence to photographing wildlife and landscapes in the presence of large groups of people. So on my first afternoon, I sought out some quieter locations at the southern end of the lake.
I found one especially attractive site where I could be on my own with a group of some 20 swans. Armed with some bread to keep them interested, I spent a number of blissful hours on two consecutive late afternoons surrounded by my new friends against a gorgeous backdrop. This is one of my favourite images from the trip, taken while lying on the ice.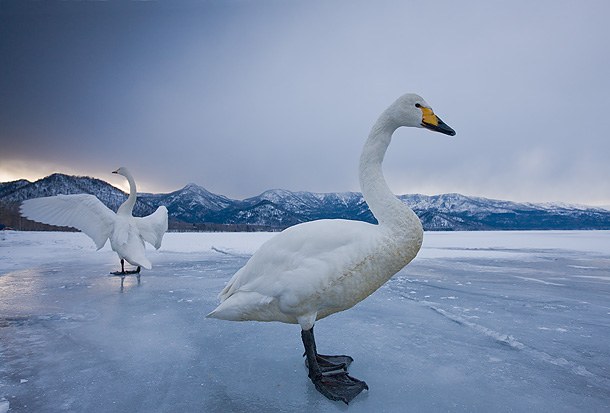 After two days at Kussharo-ko, I was collected by my Japanese guide on the third morning. After a morning at the lake, we spent the afternoon snow-shoeing along the crater edge of nearby Lake Mashu-ko, a 212-meter-deep caldera lake. This image shows Silver Birch trees in the snow along the crater edge with the lake in the background.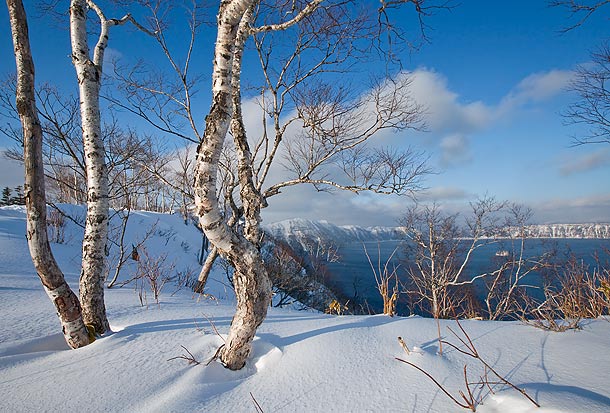 Eastern Hokkaido is home to two main raptor species, the White-Tailed Eagle and the Steller's Sea Eagle. I did not have time on this trip to visit the areas frequented by the latter, but the former can be seen in prodigious numbers at the Akan Crane Centre for about 30 minutes during the daily feeding session that is carried out in an adjoining field for large numbers of cranes. In the build-up to the feed, which includes fish, large numbers of eagles take up position in the surrounding trees. Once the feed begins, they take to the air before periodically swooping down to aggressively compete for the fish. While all a bit contrived for my liking and you will be surrounded by throngs of local photographers, it does provide limitless photo opportunities of the flying eagles.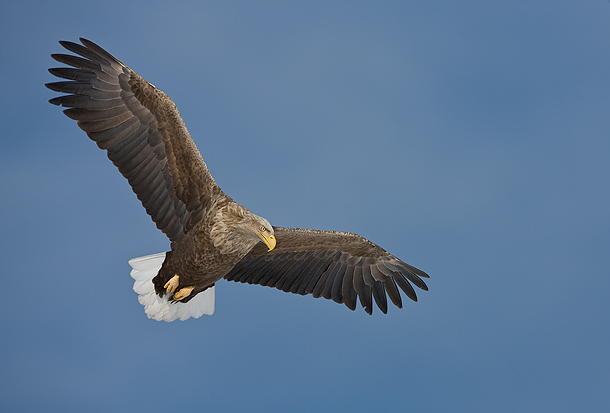 On occasion, the feeding attracts other, non-avian visitors with this Red Fox putting in a brief appearance as it weaved its way through the cranes looking for leftovers.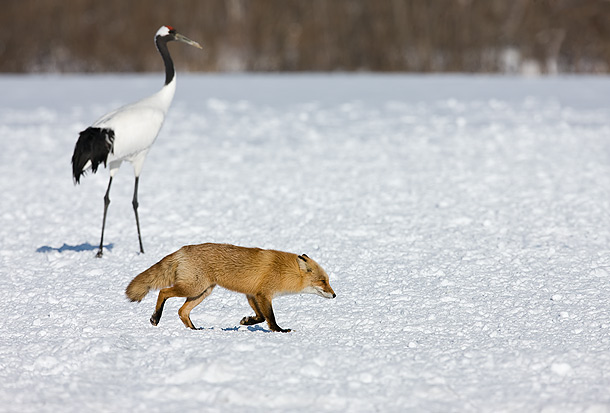 On the way back from the eagles one afternoon, we were lucky to chance upon this Ural Owl at its nest.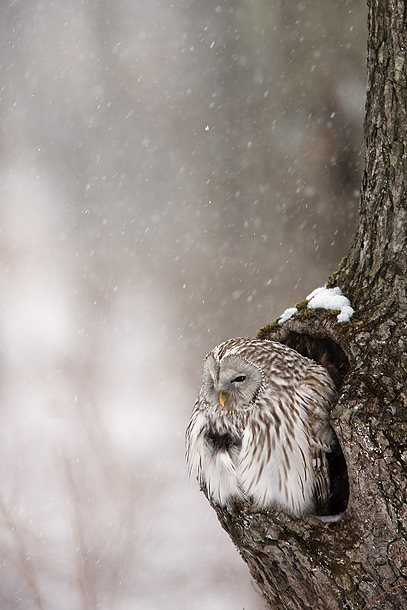 The number one wildlife attraction in Hokkaido however, is unquestionably the Japanese Red Crowned Crane. It is the world's second rarest Crane with the only more critically endangered Crane being the North American Whooping Crane. Today the world population of the Red Crowned Crane stands at just 1,500. Of these, 1,000 are found in China and Korea and the remaining 500 in Eastern Hokkaido. Unlike the former groups which breed in Siberia and Mongolia and then migrate to Korea and China, the Hokkaido flock are resident all year round.
The cranes were widely hunted in Japan in the 19th century, by the end of which they had disappeared from Japan's Southern Islands. World War II and the Korean War further devastated the Japanese and PRC crane populations. By the winter of 1950, the Hokkaido birds had been reduced to just 25 half-starved birds huddled together around a hot spring. Local farmers came to their rescue by supplying them with grain.
Over the subsequent years, supplemental feeding, rigorous protection and unflagging public support have enabled them to rebound to over 600 birds today. Death from power line collisions has been reduced by a programme to make the power lines more visible to the birds.
The Hokkaido birds breed and spend spring, summer and autumn in the marshes and swamps of Eastern Hokkaido but in winter they congregate on the snow covered wheat and corn fields where they take advantage of public and privately maintained feeding sites. In this first image of the cranes, a pair can be seen coming in to land on one of the fields during a heavy snowfall.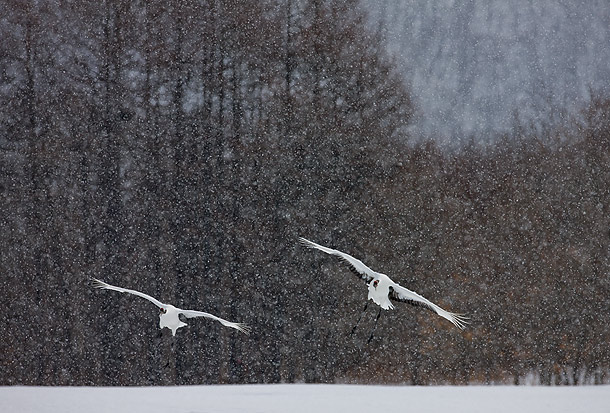 Once a firm bond has been established, the birds remain mated for life. The most spectacular aspect of crane courtship is the dancing ceremony which peaks in February. I had specially timed my visit to coincide with this event.
The birds prance stiff legged around each other, alternately bowing and stretching with their wings half extended. They punctuate the dance by leaping high into the air with their legs dangling loosely beneath them. When excited they pick up small sticks or pieces of grass, toss them exuberantly into the air and then stab them on the way down.
Capturing decent images of the cranes dancing is not as easy as it sounds. Firstly, the courtship display only takes place occasionally and a large group of cranes can go for extended periods with no dancing activity. Secondly, the birds tend to group together quite tightly making it difficult to isolate a courting pair. Thirdly, it is often difficult to frame the cranes against a pleasant background.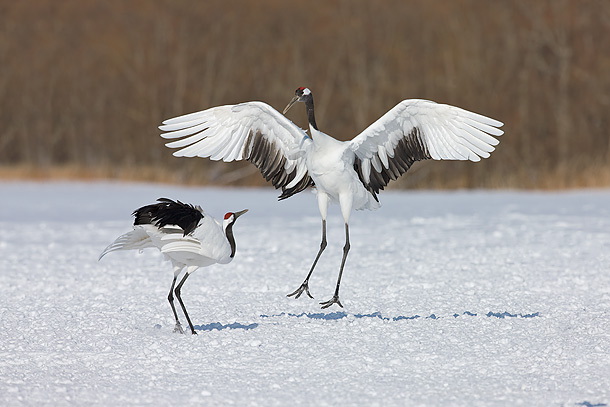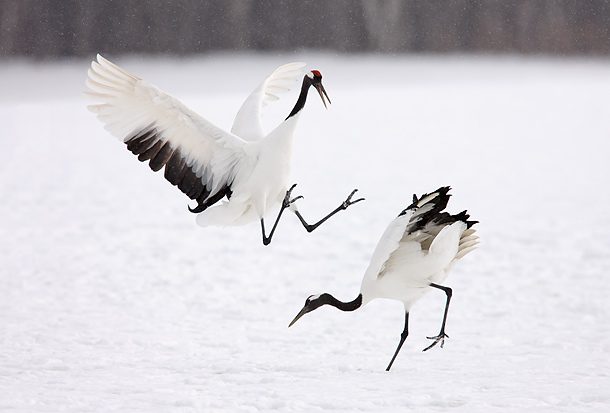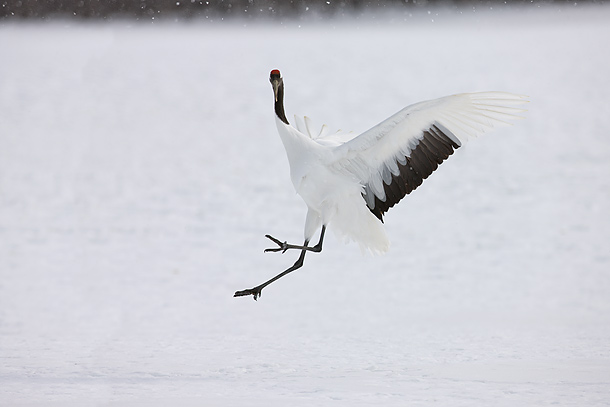 The cranes also perform a duet of their ringing unison calls to further strengthen their bond.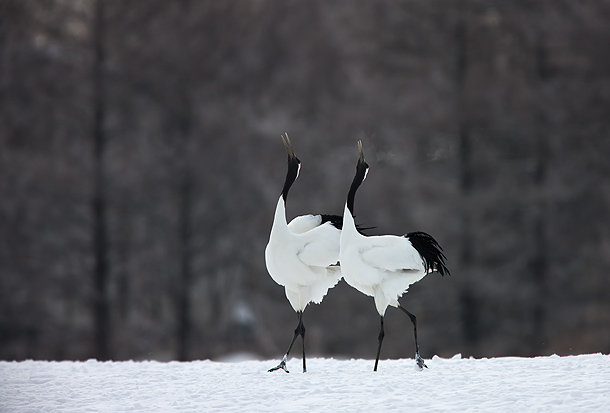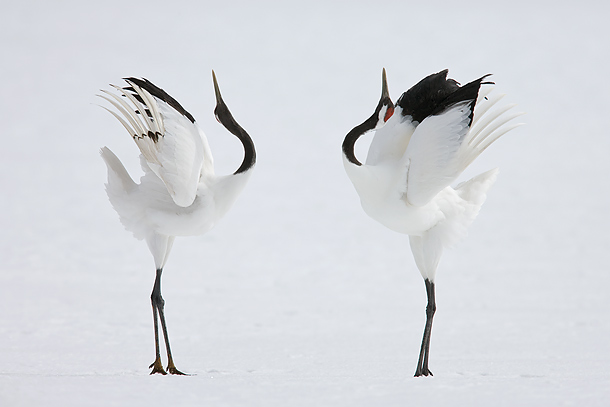 While capturing images of the courtship display was a priority, I also wanted to show the birds in their environment. The following image is a classic case of less is more.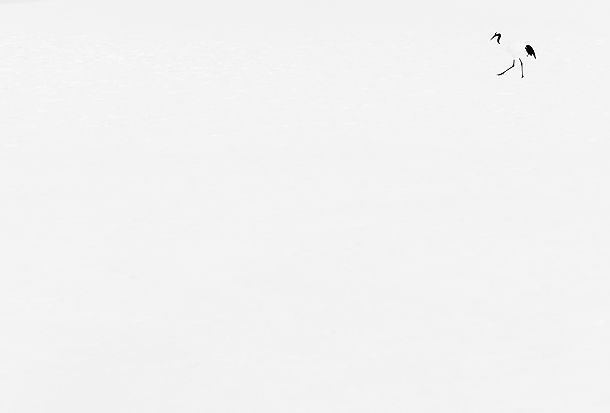 One of the most popular places to view the cranes in the early morning is from a bridge overlooking the Setsuri bridge. Lighting and climatic conditions vary considerably from day to day. The first image shows a crane wading in the river towards hoar frosted trees on a particularly cold morning.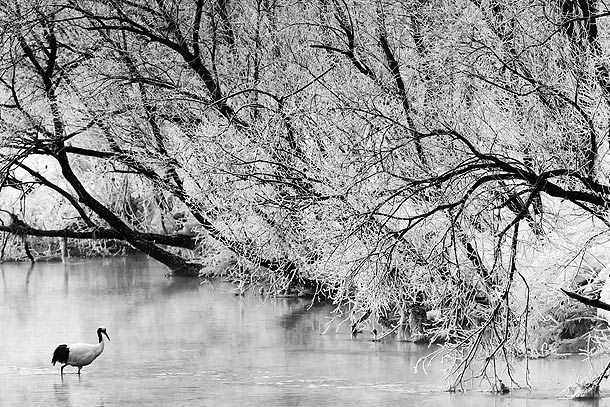 The second shows a crane standing in the river as snow falls.
Hokkaido is not just about wildlife and it would wrong to ignore its often stark but picturesque winter landscapes.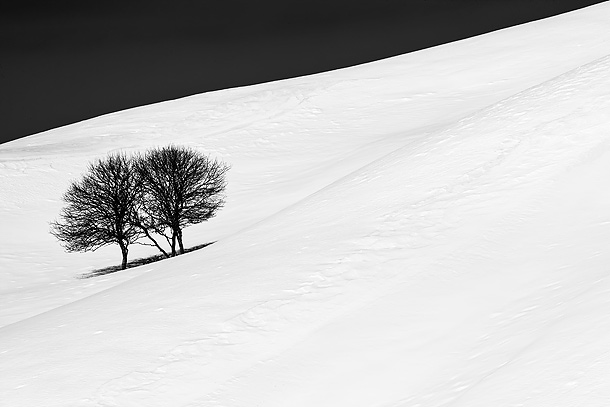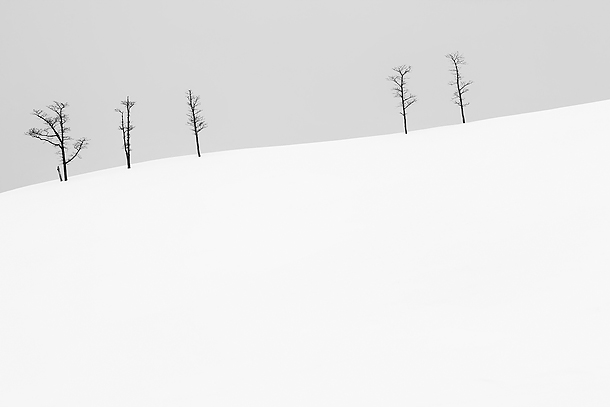 As I have noted in previous blogs, the whole experience of Hokkaido's wildlife and landscapes is enhanced by the exceptional local hospitality you will encounter, by the wonderful onsens and the amazing food.
Japan is a firm favourite of mine and Hokkaido has to be at the very top for nature lovers.
Comments